ABOUT 3D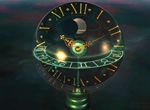 "Watch me", werk van Johan Framhout, volledig in Bryce gemaakt.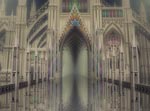 The water cathedral , work of Johan Framhout, entirely made in Bryce.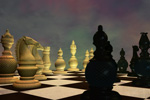 Struggle between light and darkness, a recent work by Johan Framhout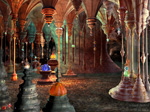 Sculptured cave, a 3D work by Johan Framhout, made in Cinema4D, with splines & lathe nurbs
A work of George Grie. Made in Photoshop, 3DS max and Bryce,with photo fragments.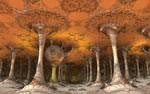 Example of a beautiful fractal work in 3D, made with the program Mandelbulb3D.
A work from artrager in Renderocity, made in 3ds Max and Vue.
Work of "e-brink", made with Bryce, Daz3D and Photoshop. The air ship is a model from Drawbridge.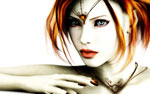 Work of "chexm1x" in Deviantart, example of a version of a figure (Poser or Daz)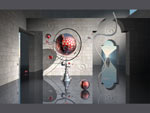 Surrealism from kolja7t in Renderocity: Perfect day 3, made in Bryce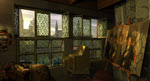 Meticolous work from London224 in Renderocity: The studio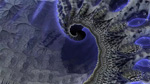 3D programs are also made to make films with.This is a scene from bib993, Amazing Fractal Trip.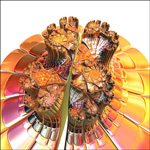 3D-erk gemaakt met Incendia ex door nic022.
Detailed work in 3D: 'Dune Artreides Final' by angelitoon in Deviantart, made in Organic, 3DSMax, ZBrush and Photoshop.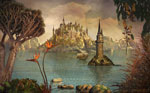 Atlantis , work of Johan Framhout, example of a matte-painting, which means a combination of 3D, collage and handwork on the tablet.
3D is the name of computer programs for making scenes which can be looked at from different points of view. A misleading name because you don't really see stereoscopic, the age of the holograms on your computer screen is coming, let's have a bit of patience. It is also possible to make animations with these programs, moving scenes, in this case we call it 4D, the dimension of movement is added. The artist places his objects in a three-dimensional space, coats them with the right materials, puts the lights, chooses an atmosphere en finds out where he wants the camera, the point of view. But to be finished the work needs to be rendered. His or her computer shoots light beams in the virtual world en sets down how the light moves. Gradually the schematic drawing transforms into a visual image. To render can take hours, also with the best computers. Mainly reflections, transparencies, volumetric objects and soft shadows lengthen the time necessarily for rendering.
The 3D program Bryce
My works are made mainly in Bryce, so here follows a reduced explanation about this Bryce program. Because it should give some idea of what this program contains.
camera: one can always change the position of the camera to look from another perspective
lattices or double terrains: underneath the terrain is the same mirrored; because it is possible to draw in the terrain editor - or to make it elsewhere, copy and fix it in the editor - it can be used to make many possible symmetric objects
bodies: sphere, cylinder, cube, pyramid, cone, torus, metaballs. One can connect them, take away from each other, make a cross-section, the can be extended, shrank, inclined, moved. One single group, for instance a lantern, can easily be made of hundreds of bodies.
lights: many kinds: round or spots, colours, shadows... Even a black light to obscure
atmosphere: air, mist, nebula, sky colour, position of sun or moon, cumulus or stratus clouds, and so on. It is not simple to make a beautiful or natural sky in Bryce, one must add "infinite planes" or spheres with clouds.
terrains: several types of mountains or hills by means of fractals; it is also possible to change the terrains by painting grey tones in the terrain editor (some artists make their complete works this way); one can also change the terrain by an imported image (one of the reasons you always need a 2D-program too.)
trees: there is a "tree lab" where one can choose between numerous tree species, colour, leaves, change the branches, and so on.
planes: with squares and circles it is possible to bring images in the scene; infinite planes are for ground, water, clouds...
Most things have an "edit" to bring changes, there is a material lab for giving structures, one can import objects made in other programs.

The menu on top of Bryce 6. The button on the far right brings you to Daz3D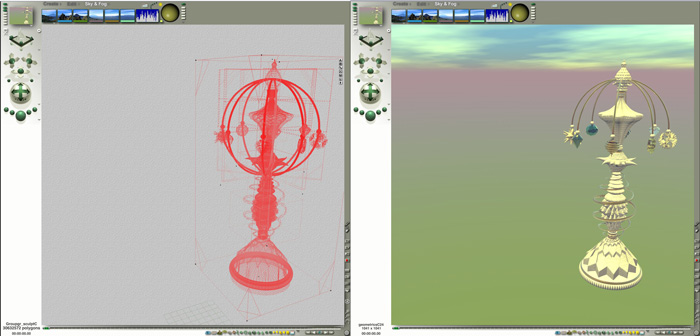 Composition in Bryce, design in camera view and render
Other 3D programs
There are many other 3D programs: Cinema 4D, 3D StudioMax, Maya, Terragen, fractal programs...If you ask the search robots which are the best, it often brings you Maya and 3D Studio Max, shorted 3D-max. This 3D-max is derived from CAD, and also offers different bodies, materials, lights, camera, but it is also possible to dray a 3D object. One has to draw the front site with vector lines or beziers, the side and the top view, and the program constructs the corresponding body. Cinema4D offers extra features: for example there is the possibility to round all sharp edges of the bodies; it is also possible to extract bodies from one another. Blender has inspired on Cinema4D, with the big difference it is completely free, but also added some special features. Maya hast the maximum possibilities but is also the most difficult program. ZBrush is a program for virtual modelling. This 3D program also offers different bodies and they can be deformed. If you make them a polymesh one can do exactly as a clay sculptor: making pits, tops, scratching, deforming, polishing... a body which is transformed to a polymesh is regarded as a group 3D pixels, which are called pixols. There are also materials in ZBrush and there is rendering as well, but one can export a sculpted body as an object and import in other 3D programs. Vue d'Esprit looks to me very similar to Bryce, but extended and much more expensive. Daz3D is connected to Bryce and mainly used to construct people and animals, or for trading 3D-constructions. The most popular program for this purpose is Poser, with numerous men and women, hair dressing, make-up, cloths... There is a large trade in all this things, but one who knows this program very well can construct it himself or herself, and sell. Fractal programs work on a totally different base and use mathematic formulas which produce graphic work. There are fractal programs which can also produce 3D, such as Fractalizer and FractalX. Mandelbulb is the best known 3D fractal program with endless possibilities, and it is free. All design is based on formulas. Incendia is another program which multiplies 2D or 3D objects according to fractal patterns.
©Johan Framhout
| | |
| --- | --- |
| The interface when you come to open ZBrush, where a bust is choosen. It is possible to make such a kind of bust by symmetrical modelling. | |
| Interface from cinema4D where is demonstrated how different bodies are extracted from a single cube. | |
Websites with 3D works
There are several sites about 3D programs as well as sites whith art, or where each artist can post his works. Here follow a few examples. Image search robots bring you mainly to the most commercial sites. Therefore this page will guide you.
On this site stands Virtual Museum, a very large collection of today's most beautiful paintings and 3D art. With Virtual Museum we want to show how different techniques of painting or constructing can be equal in value. Click on the third button in the navigation bar on top of this page. Each work is provided with the link to the source, so nowhere one can discover as many good art and art sites as here. A login is not asked on this site, but it is necessary on the following sites.
Renderocity is a site where the program Poser prevails, but all plastic works are welcomed, digital art as well as handmade art, also photography and even strips, novels and poetry. Click on "what's new" and you can see the new uploads. You ill notice that not everything has quality. It is typical for this kind of site, a result of the fact that everyone can post his or her work, there is no jury to filter. What should you do to arrive at what you like most? Since there is no magic spell you will have to invest time. But you will be rewarded, because there are real pearls between the works and watching is free. To visit an exhibition you have to travel and this demands time as well and it can also be disappointing. If you want to explore an art site without limits, the beginning is always the least rewarding. One can look over some pages with thumbs of the newest uploads, and only click on what you appeals. One can also choose a category, or the program with which it is made. If the work pleases you, you can put it on the site with your favourites. Click on the name of the artist if you want to look at his other works. You can also put the artist on your list of favourite artists, you also decide if you want to receive an e-mail each time this artist posts something new. Another possibility is to look at the favourites of your favourite artist, maybe you discover a new favourite by this method. You can also look at the most visited works or the most commented, but that does not means this will become your favourites. Tastes are different and the sexiest women of Poser are always the most visited works.
Deviantart is a similar artist site, with digital art, hand made art, photography, literature, movie clips... Deviantart is a monster site with over 13 000 000 members and more then 35 000 000 visitors each month. You can with categories, but this is not very encouraging. Click on "deviations" and scroll down. There you will find some "daily deviations", works chosen by the staff of Deviantart. Watch all thumbs and click on what seems to appeal you. The chance of finding what you like is higher this way. Underneath the page is the date and on the right of this there is a button "change" with witch you can visit the thumbnails of the previous days by month. Also on this site each registrated visitor has his own page, if you submit or not, where you keep your favourite works. On the right of a work there you find the word "gallery" which brings you to the other works of the same artist, or to his or her favourites. But Deviantart has something special: there are numerous groups. After opening, one can see on the left "groups" and click on it to visit some pages with the different groups, to choose those which are in your field of interest. But there are more then 80 000 groups, which is also not easy. Therefore it is better to look at a work of interest and then click on the name of the groups where this work of art is also submitted. There you are able to watch the other works. In most groups it is not necessarily to become a member for watching, but if you want to indicate your favourites in the group itself, or if you want to add comments on that place, you can better become member, watcher or submitter. Both art sites have a big sales market, for buying and selling (prints, 3D-compositions, Poser people, t-shirts...), competitions with juries and other possibilities.
FantasyArtDesign has a maximum of four works for each artist. Of course the result is quality. People don't have the need here to send photos of their dog, cat, house or hobby. But it is also a limitation. Sometimes there is a link from there to their personal website or blog or to their pages on Deviantart.
Fractalforums is a site with nothing but fractal art, mainly in 3D. But there is also fractal art on the previous sites, in the categories fractal art or abstract art. This site offers nevertheless fantastic works and is worth a visit.
CGsociety is a well known site for concept art, those artist using digital painting as well as 3d art for illustrations used for computer games and movie backgrounds.
©Johan Framhout
| | |
| --- | --- |
| | Illustration of some other possibilities of 3D-max. |
The human body in 3D
Men and women often look as over painted photos. Nevertheless they have been painted as well as the Mona Lisa was. But in this case the work is not the result of one artist, but of several: those who made the program and did provide the basic figures, and those who processed it in order to achieve a nice art work.

We give a brief survey of the functioning of such a program to give an idea what it really means to have a human figure in 3D. We have chosen for the program Poser. Daz3d works very similar. The artist creating the human body doesn't paint a complete person; he or she paints a skin, hair, a face… in a way which doesn't look very humanly on the first sight. Now follow a few examples.
This is how the original painted face looks like

| | |
| --- | --- |
| The skin | ... and the hair |
The skin and the face look as if smeared over a 2D plane and are transformed by the program to a normal looking 3D human body. Let's say it has been "put around". The examples we show result in the standard model called Alyson of Poser8, as you can see in next figure showing the general display.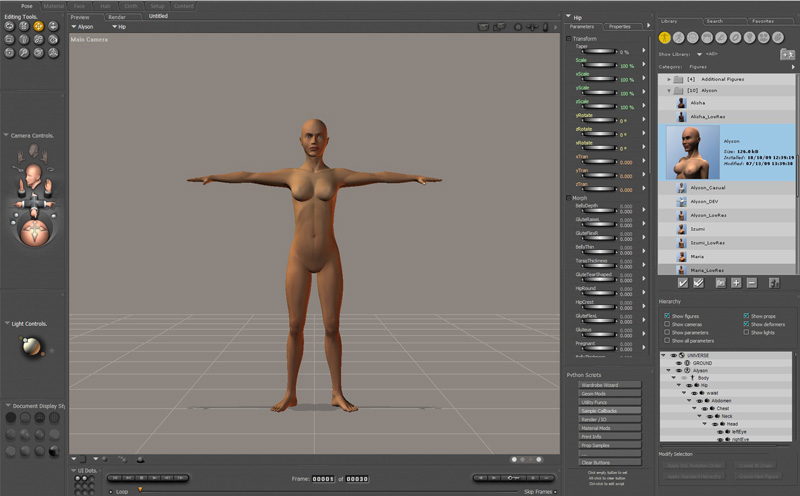 Of course this is far from ideal. With the huge number of parameter buttons a lot can be adapted. If you did put your beginning figure, you have to chose the hair and fix it to the body, where after you can adapt the hair. Next is the posture you want. From each of the given postures one can change the position and proportions of all body parts. But these figures cannot be deformed as much as you would like. That's why you better chose one of the postures offered with each figure by Poser: sitting, standing, lying, jumping…
Adapting body postures requires a profound anatomical knowledge. To change for instance the position of the right hand, one has to begin with the right shoulder. Next is the upper arm: torsion, lifting up or down, moving sideward or up… Next the same to the lower arm, followed by the wrist. After this one can begin to adapt the hand itself. If one would have started with the hand, it would have resulted in a kind of sausage of worse. In this way the whole body is handled, and the face is given the desired look and expression. There are for instance different parameters to deform the expression of the lips.
This is sufficient for a nude, but mostly also cloths are needed, and they don't necessarily suit the chosen figure. Few cloths are delivered in the program, because the cloths are made by artists. In this way a whole virtual world of fashion has been created, and is sold. The same for shoes, jewellery and other attributes.
In Poser there exist different levels of using. Most simple is to stay close to the offered figures and attributes one already has, or to buy new ones. There is enough to do with adapting the posture and expression, to place the camera well (point of view) and most of all: to provide the good lights. The colours of the lights make the skin of the figure pale or dark, but they also change the colour of the hair for example drastically. The technically more advanced artist creates new types of figures, new jewellery, cloths, and so on. And of course one has to place his creation in a vividly world, which is usually more then a simple background. Now follow some examples of hair, postures, expression…
©Johan Framhout