Some examples of tabija's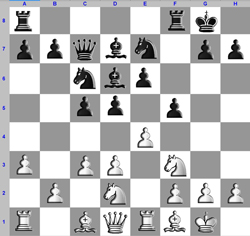 1 French defence, king's Indian attack, all chessmen on the board. White is at play.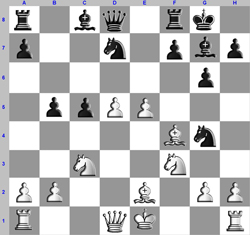 2 From a Spasski tournament, after the 12th move. Ech player lost two prawns. White is at play.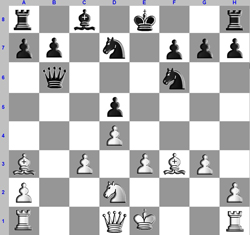 Match with postponed castling. Both players lost two prawns. White lost a knight, black a bishop. Black is at play.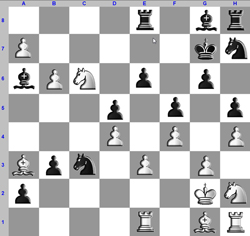 Fantasy position, both lost a prawn and the queen. White starts.
Some fascinating variants, with traditional set and board
One against everyone
White has a complete set at the usual position. Black only has one piece, the king, which has the capacity of all chess pieces. So it has the capacity of queen and knight. Starting place is the king's place. If black plays good, he cannot be beated. A test to a beginner.
Set-in chess
Starts with an empty board, pieces before the board. With each turn the player selects a piece and any empty field to put it on. In the very same turn he continues with a move with one of his pieces already in the field (witch can be capture or check). Bringing in a piece is obliged (as well as moving) as long as there are pieces in store. So each turn has two moves, except the very first (at which one can only place on the board) and after all 16 pieces are in the game (where it becomes traditional chess). A prawn can only be placed on the the rowes 2 to 4. If one bishop stands on a white field, the other must be brought into game on a black field, and otherwise. Castling and special prawn movements don't exist, promotion stays as in traditional chess.
Position chess, starting from a certain position (tabija)
Instead of the traditional starting positions, one starts from a more develloped position. Choose it from a book or internet, for example from a historical match or some opening, with equal chances. Exists for centuries, in Arabian chess it was called 'tabija'. Also a very unlikely position is possible, for example with prawns on the forelast row (see illustration).
Chess with double turns
With each turn the player moves two pieces. Can also be capture. Check is only possible with second move.
Dice chess
See below
Crossing chess (our variant)
Winnar is the one who's king reaches first the last row. With capture the piece stays on board, but the one who strikes chooses an empty field to place it. The captured piece can also be the king. The prawn's double starting move stays, if it's position is on the second row (a prawn cannot be placed on the very first row after striking). Dito 'en passant'. Castling and promotion are lapsed.
Kamikaze-one-against-everyone
Similar to 'One against everyone', but black starts and has to bring himself with every move in check. White makes it undone. The first who does not succeed, looses the game.
Mine chess
Needed: chess board with numbers, chess set, paper and stationary. Each player notes hiddenly on a sheet where he did put his mine before the game starts. That is the field where a piece cannot be captured, quite the contrary, the attaquer looses his striking piece. It can only be used once in a game.
Hard shoulder chess
Two middle fields, one for each player, are hard shoulder places. White has d4, black e5, going on till the end of the game. (Also possible are e4 and d5.) The piece standing on such a field, is immune and powerless. So it cannot strike from that place and cannot be captured. Extra needs: flat disc, smaller then a field, to indicate the place on which a chessman can stand.
Exchange chess
If both players have a similar captured chessman, both are brought on board again. Each player places the chessman of the opponent on an empty field of his own choice (a prawn not on the very first or last row).
Disc chess
See below
Blind chess
See below
Chess on a smaller board
Several games are invented, for example QuickChess from Joseph Miccio, on a board of 5 columns and 6 rows. From left to right are rook, bishop, queen, king and horse. Black is symmetrical. No double pawn moves, nor castling. Promotion restricted to captured chessmen.